Bachelor of Law and Shariah with Honours - (LLB and Shariah) (Hons.)
PROGRAM DETAILS
Programme Code:
QL04
Medium of instructions:
English and Arabic
Duration of Studies:
- Full Time: 5 years (10 semesters)
Bachelor of Law and Shariah with Honours - (LLB and Shariah) (Hons.) is designed to equipped students with knowledge and skills in aspects related to both Syariah and Civil Law. The curriculum is designed to produce professionally competent and qualified legal personnel, in Syariah and civil, who are committed to the practice and promotion of Islamic principles and teachings in the legal profession. Students who are successfully completed this programme are expected to be able to practice in both Syariah and Civil Law area. Students are required to complete 159 credit hours, comprised university required courses, faculty required courses, programme required courses and electives courses.
CAREER PROSPECTS
Pegawai Undang-undang; Majistret, Penolong Kanan Pendaftar Mahkamah Tinggi, Timbalan Pendakwaraya, Peguam Persekutuan, Pegawai Penyelidik, Penolong Pengarah Biro Bantuan Guaman, Penolong Penasihat Undang-undang Negeri, Peguam Persekutuan di Pelbagai Kemnetian, Jabatan dan Organisasi Awam.
Contact Us
Student Admissions and Marketing Department
Level 1, Chancellory Building
Universiti Sains Islam Malaysia (USIM)
Bandar Baru Nilai, 71800, Nilai, Negeri Sembilan, MALAYSIA

Phone: +606-798 8000
Email: admission@usim.edu.my
Testimonial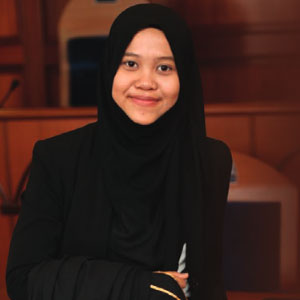 My experience studying law in FSU has been an exhilarating roller-coaster ride. Outside classroom activities and learning like my participation in moot court has helped me engaged further with the real-world. It has enabled me to interact and network with other law students and as a preparation to join legal industry. It is definitely a cherished chapter in my book of life.
Education:
Bachelor of Law and Shariah with Honours - (LLB and Shariah) (Hons.)