By: Dr. Ahmad Dzulfikar Samsudin
Lecturer in Oral Surgery
Faculty of Dentistry
A group of researchers from the Faculty of Medicine and Health Sciences Universiti Sains Islam Malaysia (USIM) has invented a Mobile Intravenous Drip (MIV), a specialized strap to assist patients carry the IV set.
This product is designed by Assoc. Prof. Dr. Ahmad Najib Azmi as lead researcher, Dr. Azlina Mokhtar, Muhammad Akmal bin Sallahuddin, Hazwan Syahmi bin Hashim, Ummiyahtun binti A. Rahman, Nurul Saprina binti Rosli  and Fathiyyah binti Faizol Fadzli.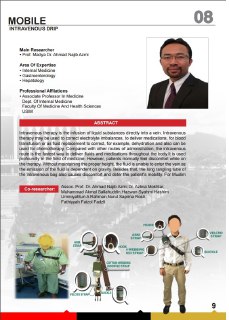 According to Dr. Ahmad the MIV is designed to secure IV set on the body of patients, giving  them mobility and maintaining freedom of movement. It consists of a hook and a major strap to hold the IV bottle on it. The patient can use the invention easily by hooking the IV bottle on it.
He added, two additional features are added to the device on the shoulder and a minor Velcro to hold the long IV tube. It is very convenient and patient-friendly because it can be handled single-handedly.
"In hospitals, it is a norm for patients to feel discomfort while on Intravenous therapy. Patients will have to drag the stand holding the IV set everywhere with them which is a major inconvenience. Without maintaining a proper height, the fluid is unable to enter the vein as the emission of fluid into the body is dependent on gravity".
Dr. Ahmad explains that the long and dangling tube that connects the catheter to the IV bag also causes discomfort as well as restricting the Muslim patients' mobility to perform prayers and ablution. Therefore, MIV provides the solution.
The team hopes that MIV will be able to help and assist patients in hospitals and will be marketed soon.