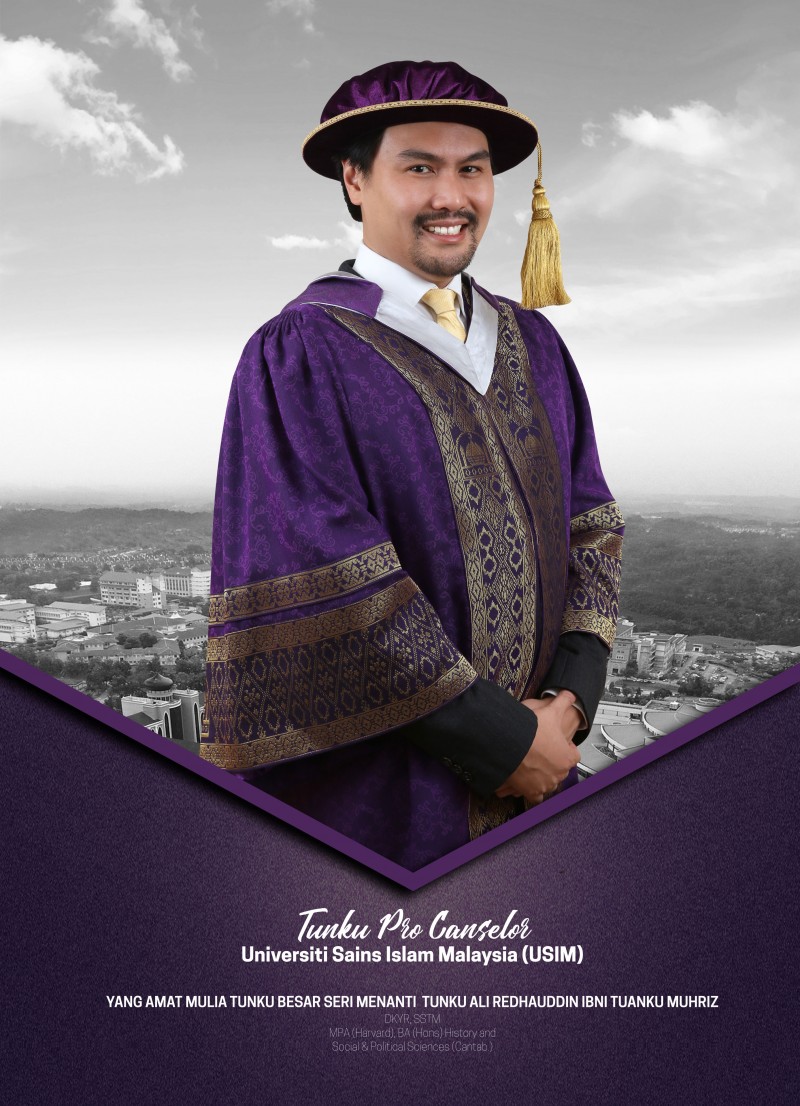 YANG AMAT MULIA TUNKU BESAR SERI MENANTI
TUNKU ALI REDHAUDDIN IBNI TUANKU MUHRIZZ
PRO CHANCELLOR UNIVERSITI SAINS ISLAM MALAYSIA
Yang Amat Mulia Tunku Besar Seri Menanti Tunku Ali Redhauddin Ibni Tuanku Muhriz is the first Prince to Duli Yang Maha Mulia Yang Di-Pertuan Besar Negeri Sembilan Darul Khusus, Tuanku Muhriz Ibni Al-Marhum Tuanku Munawir and Duli Yang Maha Mulia Tunku Ampuan Besar Negeri Sembilan Darul Khusus, Tuanku Aishah Rohani Ibni Almarhum Tengku Besar Mahmud. YAM Tunku was born on 26 April 1977 at University Hospital, Kuala Lumpur, exactly three years and a day after his parents' wedding day.

YAM Tunku received his early education at Sri Inai Junior School and the Alice Smith School Kuala Lumpur before continuing his education at Marlborough College, Wiltshire, United Kingdom at the GCSE ('O' Level) and GCE 'A' Level. YAM Tunku was actively involved in sports, whereby he represented his college in badminton and basketball. In college, he also participated in the CCF Mixed Cadet Force. His excellent results in his 'A' Level has enabled YAM Tunku to be awarded the Sime Darby/Cambridge Commonwealth Trust Fellowship  and continued his tertiary education at the University of Cambridge in 1995. He then graduated with a B.A (Hons) in History, Social Sciences and Politics in 1998. At the university, YAM Tunku was a committee member of the Malaysian Student Association and was the Treasurer of the Cambridge University Orient Express, an association formed to enhance cross-cultural understanding between students of diverse multicultural background of Asia and the United Kingdom. YAM Tunku also attended courses at the University of Oxford, UK.
In 1997, YAM Tunku started his career with BZW Asia Ltd as an Summer Analyst in Corporate Finance. Then, YAM Tunku was engaged as a consultant at McKinsey & Company, United Kingdom in 1998 and  dealt with projects related to the industries involving oil and gas, finance and, communication and technology. His stint at McKinsey & Company provided him the exposure and experience as a consultant in USA, Hong Kong, Singapore and Malaysia.
In 2004, YAM Tunku was appointed as Senior Vice President of Investments at Khazanah Nasional Berhad. He was actively involved in initiatives directly related to Government Linked Companies' (GLC) Transformation Programme and spearheaded many local and foreign strategic investments; including theme park projects like Legoland Malaysia and Kidzania Kuala Lumpur. Later, he was appointed as the Director of Investments of the company.
Since then, YAM Tunku sits at the Board of Directors of a few companies, including Asia Capital Reinsurance Malaysia, Themed Attractions and Resorts, Destination Resorts and Hotels, Teluk Datai Resorts and Iskandar Malaysia.
The year 2009 witnessed an important episode in the life of YAM Tunku. That year, YAM Tunku was officially appointed as Tunku Besar Seri Menanti. YAM Tunku was also conferred the Darjah Kerabat Yam Tuan Raden (DKYR) and he was awarded the title Lieutenant Colonel in the Malay Regime Corps.
In the midst of his busy official duties, YAM Tunku successfully graduated with a Masters in Public Administration at John F Kennedy School of Government,  Harvard, USA in July, 2011.
YAM Tunku cares for the community, thus he is actively involved in various community development programmes which organizes leadership workshops for students and young professionals. YAM Tunku is also involved in many activities which provides guidance, encouragement and exposure to youths of all walks of life; students and young professionals. His serious involvement in these causes is executed through his positions as the founder and in the Board of Trustees, Teach for Malaysia, Chairman, Yayasan Munarah and Governor, Marlborough East (Marlborough College Malaysia). YAM Tunku is also appointed as the Royal Scholar In –Residence at Universiti Teknologi Malaysia (UTM).
Besides dedicating his time for his career and family, YAM Tunku makes time for his own personal enrichment by travelling, reading and participating in recreational activities. YAM Tunku is an avid fan of history and loves reading history books. Amongst his other sports, he is very keen in improving his skills at golf.  YAM Tunku hopes that he would be able to contribute significantly and play an important role in the development and progress of the rakyat of Negeri Sembilan and Malaysia.
TUN DATO' SERI (DR.) ZAKI TUN AZMI
PRO CHANCELLOR UNIVERSITI SAINS ISLAM MALAYSIA
The Honourable Tun Dato' Seri Zaki Tun Azmi was born on September 12, 1945 in Alor Setar, Kedah. He had his early education at Sultan Abdul Hamid College, Alor Setar, Anderson School, Ipoh and English College, Johor Bahru. He then read law at the Lincoln's Inn, London and obtained a Barrister-at-Law in 1969. The Honourable Tun is married to Toh Puan Datin Seri Nik Sazlina Mohd Zain and blessed with four children. Upon graduation, he started his career with the Attorney General's Chambers of Malaysia in December 1969. During his service with the Attorney General's Chambers, he held various positions; a Magistrate in Kuala Lumpur, a President of the Sessions Court in Ipoh, a Federal Counsel at the Drafting Division in the Attorney General's Chambers and a Senior Federal Counsel at the Ministry of Home Affairs. After 15 years in the government service, he made his way into legal practice as an advocate and solicitor at an established law firm in Kuala Lumpur.
In 2004, Tun Azmi became part of the Royal Commission delegated to enhance the operations and management of the Royal Malaysia Police (PDRM). With 37 years of vast legal experience in serving both government and private sectors, The Honourable Tun was appointed as a Federal Court Judge on 5 October 2007. On 11 December 2007, he was promoted to the position of President of Court of Appeal. Eventually, on 18 October 2008, he was appointed to the highest judicial office and served as the Chief Justice of Malaysia until 11 September 2011. During his tenure as Chief Justice, the Malaysian judiciary had undergone a remarkable period of transformation in its administration and case management. He is known for his success in reducing backlog cases and improving efficiency in the judicial services. The effectiveness of the systematic judicial management under his tenure had inspired more than 40 countries which have similar backlog problems to learn from Malaysia. The Honourable Tun had successfully simplified the court procedures and made it friendlier, created non-stop legal and judicial education for judges, and established a paperless e-court system.
After retiring from the bench, The Honourable Tun continues to serve the country. He continuously shares his experiences in various government and private institutions at national and international levels. He actively plays his role in Malaysian higher learning institutions. Currently The Honourable Tun is the Chancellor of Multimedia University (MMU) and Mahsa University. He is also appointed as a Chairman of Board of Directors, Universiti Malaysia Sabah (UMS). In the meantime, he is also made the de facto Chairman to the Chairmen of Board of Directors of Malaysian universities.
The Honourable Tun has been appointed as a Chairman of a Special Commission to Study the Transformation of the Civil Service in 2012. Following the leak of papers for 2014 UPSR examination, he was appointed as a Chairman of Independent Committee to Review Public Examinations. For his vast legal experience, he has been internationally honoured through his appointment as a judge at Dubai International Financial Centre (DIFC) Courts. The court operates a common law judicial system and comprises of internationally renowned commercial and civil law judges. He is also a President of Lincoln's Inn Association of Malaysia (LIAAM) which amongst others introduces dining nights similar to those held at the Inns Court of England where diners are given opportunities to mingle with senior judges and lawyers. Besides, LIAAM, jointly with the Bar Council, organise Advocates Trainers Training courses on the bar ethics and practice. The Honourable Tun, together with other retired judges, also actively holds seminars on various legal topics. This is his way of continuously imparting legal knowledge to the public.
The Honourable Tun has also made significant contributions to Universiti Sains Islam Malaysia (USIM). His professional stint at USIM started with his appointment as an Adjunct Professor at the Faculty of Syariah and Law. He contributes significantly to the curriculum development in the Faculty of Syariah and Law. He also served as an advisor to the Bachelor of Syariah and Law programme during accreditation visits from the Legal Profession Qualifying Board (LPQB) visit in November 2013. The Honourable Tun also actively participates in academic activities organised by the Faculty of Syariah and Law. He has been sharing his wisdom, thoughts and ideas through lectures, and series of academic discussions with academic staff and students. He encourages the students in the Faculty of Syariah and Law to sharpen their advocacy skills by participating in the Moot Programme. The Moot Competition in the Faculty of Syariah and Law is named after the Honourable Tun ie the Tun Zaki Tun Azmi Intramural Moot Court Competition.
It is an honour for the students of the faculty to have him as one of the panel of judges in their annual mooting competitions. Tun Zaki was central to the establishment of Tun Azmi Foundation that serves to honour best graduands of Faculty of Syariah and Law at USIM Convocations as recipients of the Tun Azmi Foundation Special Award. The foundation presented an amount of RM30,000.00 to the university in initiating this special award. The Honourable Tun was conferred the Honorary Doctorate of Syariah and Judiciary at Universiti Sains Islam Malaysia's 13th Convocation in 2015 for his vast contribution to the institutions of judiciary and law.