NILAI, September 6th, 2023 – Two students from Universiti Sains Islam Malaysia (USIM), Muhammad Isyraq Husaini Muliadi and Nur Rasyiqah Unigkutti from the Faculty of Shariah and Law (FSU), have been selected as Perdana Fellows in the Prime Minister's Department (Religious Affairs) and the Ministry of Youth and Sports (KBS).
Muhammad Isyraq Husaini Muliadi, born in Johor and raised in Selangor, has recently completed his industrial internship at Razie Razak & Associates Law Firm and is set to graduate this year.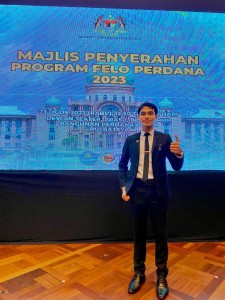 The second of four siblings, he represents USIM and Malaysia in the 2023 Regional Student Mobility Program to Brunei Darussalam. He was also honored with the Maal Hijrah Award (Student Category) during the Maal Hijrah 1445H/2023M Celebration at USIM.
"My hope is to create a progressive youth movement ecosystem as the primary stakeholder in uplifting the noble values within society. The youth serve as ambassadors of our country, playing a pivotal role in fostering unity and rekindling togetherness in Malaysia," he said.
Meanwhile, Rasyiqah, hailing from Kuala Lumpur, achieved first place in the 2023 Arabic Debate Competition organized by the Qatar Debate Foundation. As the youngest of six siblings, she actively participates in the realm of Arabic debate (Non-Native Speakers) at both the national and international levels.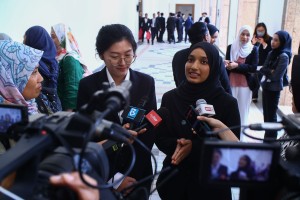 Rasyiqah's hope is that young people utilize this space and platform to voice their opinions, share ideas, and offer suggestions to the government, contributing to the shaping of a better Malaysia.
"The future of our country is in our hands, and we should embrace the government's efforts, rather than being like an empty vessel that makes the most noise (people with the least knowledge, wisdom, and ability are often the ones who talk the most and the loudest)," said Rasyiqah.
Their efforts start with an application on the KBS official website, followed by a screening process that includes resume evaluation and essay writing. Afterward, they undergo a psychometric test and are then invited for an interview and an orientation session.
The Perdana Fellows program serves as a platform for young people to grasp the country's policies and gain exposure, enabling them to understand not only the leadership, traditions, culture, and government direction but also, most importantly, to cultivate dynamic, competitive youth with relevant knowledge of the country's administrative system.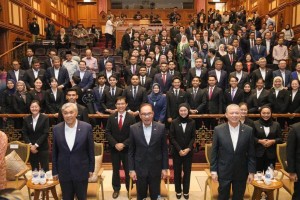 The appointment of the Perdana Fellows for 2023 was officiated by Malaysia's Prime Minister, Datuk Seri Anwar Ibrahim.
A total of 56 selected Fellows will start work from August 23 to December 31, 2023. They are eligible to receive an allowance of RM2,000 for university graduates and RM1,000 for those still studying at university.
Written by:
Noorumaina Mohamed Yunus
Translated by:
Nor Fadzlina Azahari
Pusat Komunikasi Strategik (StraComm)
Aras 1, Canselori Universiti Sains Islam Malaysia (USIM)
Bandar Baru Nilai, 71800 Nilai Negeri Sembilan