NILAI, June 19, 2017 – Universiti Sains Islam Malaysia (USIM)'s Kompleks Islam has been chosen as the main location in Negeri Sembilan for the mass recitation of Al-Quran in conjunction with Malaysia #QuranHour programme which was happening simultaneously throughout the country on June 19, 2017, or 24th Ramadan 1438H.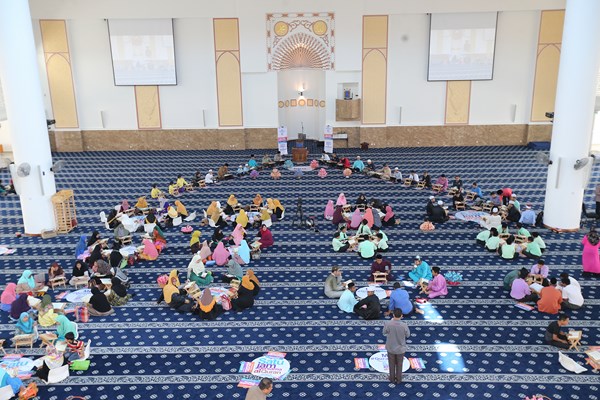 The programme, which is organized by Rumah Ngaji Negeri Sembilan and Wanita Perkim Seremban, has successfully gathered about 1,000 participants among USIM students and the Disabled community (those who are blind, mute and slow learner) from Yayasan Faqih.
The Vice Chancellor of USIM, YBhg Prof Dato' Dr Musa Ahmad has expressed his gratitude and warm welcome over the organization of such programme, which is done for the first time in USIM. It certainly enlivens the spirit of Ramadhan in the newly launched complex.
"As a Muslim, the recitation of Al-Quran in mass can unite our hearts regardless of our background. At the same time, participants can improvise the quality of the recitation and they can also understand the contents of Al-Quran," he added.
Also presented in the programme is the Secretary of the Islamic Council of Negeri Sembilan (MAINS), Tn Hj Kamal Amran Kamarudin and the Director of Pusat Islam USIM, Dr. Khairul Anuar Mohamad.
Prepared by:
Syazlyna Jamil
Strategic Communication Centre (StraComm)
Level 1, Canselori Universiti Sains Islam Malaysia (USIM)
71800 Nilai, Negeri Sembilan
Tel : 06-798 8026/8027/6284 Faks : 06-798 8204