NILAI, Feb 24, 2017 – The ICT infrastructure of Universiti Sains Islam Malaysia (USIM) has been upgraded with the establishment of new Main Server Room, which is the 'intelligence' centre of internet-based services in campus.
This RM 1.45m worth project is funded by government in the Tenth Malaysia Plan (Rancangan Malaysia Ke-10 or RMK10) and is spearheaded by the Centre for Global Open Access Learning – Immersive Technology and Quality Assurance (GOAL- ITQAN) and Department of Development and Facility Management USIM, with the appointed contractor, i-Loken Sdn. Bhd.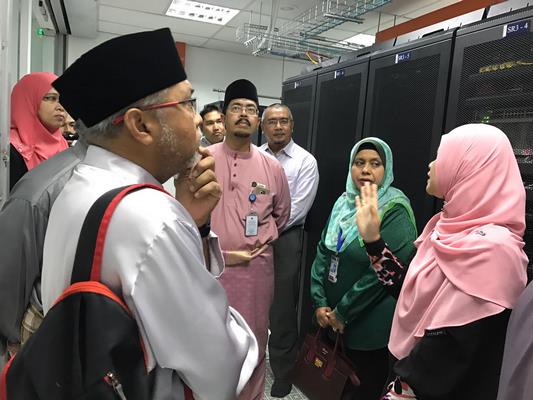 The inauguration ceremony was conducted by the Deputy Vice Chancellor (Academic and International), Professor Dato' Dr. Zulkiple Abd Ghani who represented the Vice Chancellor this morning at the main lobby of GOAL-ITQAN office. This Main Server Room is furnished with 17 server shelves and is equipped with hi-technology security system, different electrical power supply, newest cooling system and energy-saving appliances.
In this event, Baucer Staf 1 Notebook (BS1N) to Management and Professional staff is announced. "The best facility of Information and Communication Technology (ICT) is  definitely a priority for us in delivering academic and administrative tasks".
"Through this voucher, the staff can purchase their notebook the cost will be partially borne by the university. Interestingly, the staff can own the notebook. BS1N is able to save cost in about 60% compared to the previous method of purchasing and maintainance. Each year, university is allocating a large amount of money and with the introduction of this scheme, it can be reduced significantly," said Professor Dato' Dr. Zulkiple Abd Ghani.
Besides that, USIM has recently approved the additional 1 gbps of internet connection through MyREN Network Sdn. Bhd under the Ministry of Higher Education. This enables USIM students and staff to enjoy 2 gbps of internet line from June 2017 to ensure the smooth running of teaching and learning activities in the campus.
Also presented in the ceremony is Professor Dr. Roshada Hashim, the Deputy Vice Chancellor (Reasearch and Innovation); Encik Muhammad Haizuan Rozali, the Registrar; and Professor Dr. Rozhan Mohammed Idrus, the Director of GOAL-ITQAN
Prepared by:
Zaini Othman
Strategic Communication Centre (StraComm)
Level 1, Canselori Universiti Sains Islam Malaysia (USIM)
71800 Nilai, Negeri Sembilan
Tel : 06-798 8026/8027/6284 Faks : 06-798 8204