NILAI, August 21, 2017 – Kor Sukarelawan Polis Siswa Siswi (Suksis) or Undergraduate Volunteer Police Corps Universiti Sains Islam Malaysia (USIM) was selected as the recipient for the Special Inspector-General of Police Police Award – Best Suksis Corps Squad 2017 in conjunction with the13th Passing-out Parade Ceremony And Presentation Of Appointment Certificate To Public University 2016 Suksis Corps Officers at Universiti Utara Malaysia (UUM) on Sunday, August 20th.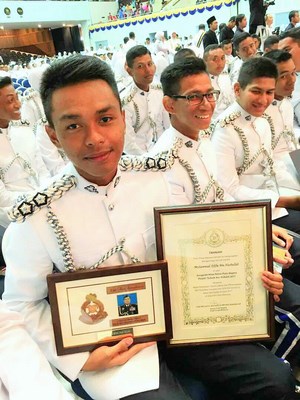 USIM Suksis Corps obtained double joy of excellence with the outstanding performance of Mohd Afifie Hasbullah, an undergraduate of Industrial Chemical Technologies program, Faculty of Science and Technology, who was selected as the Overall Best Trainee of 2017 Public University Suksis Corps.
The award was presented by Tan Sri Noor Rashid Ibrahim, the Honorable Deputy Inspector-General of Police on behalf of the Inspector-General of Police. Two awards of excellence presented to USIM Suksis Corps are the highest achievement ever received so far.
For award presentation in USIM, Nor Ifa Siron was awarded as Best Academic Trainer and Hadi Imran A. Halim was chosen as the recipient of the Best External Trainer.
Overall, the event saw the involvement of 1,251 Suksis Corps Trainees representing 20 contingents from public universities including 65 honorary officers of USIM SUKSIS Corps comprising of 32 male and 33 female officers.
The ceremony began in the morning with the passing-out parade at the Reserve Officers Training Grounds or Padang Kawad Pasukan Latihan Pegawai Simpanan (PALAPES) UUM. Later it was followed with the presentation of the appointment certificate ceremony at Dewan Muadzam Shah UUM as Police Volunteer Reserve Inspectors.
The joyous success of USIM Suksis Corps at the auspicious ceremony was shared with the Commandant of USIM Suksis Corps, Profesor Dato Dr Hassan Basri Awang Mat Dahan.
"On behalf of the Management of the University, I am truly proud of this success and compliment the high commitment and disciplined showed by our Suksis trainees throughout the training."
"This victory is a result of close cooperation of the Suksis Corps management team which includes the coordination officer, Honorary officers and most importantly the line of trainers who shared their knowledge and experiences with the trainees" said Profesor Dato Dr Hassan Basri Awang Mat Dahan who is also the Vice Chancellor (Students Affairs and Alumni) USIM.
USIM Suksis Corps is actively involved in various community service programs in and outside Malaysia through the Global Islamic Student Outreach (GISO) platform. It is also involved in various main events held in the university such as during the convocation ceremonies, safety controls, parades and other collaboration with the Royal Police of Malaysia (PDRM).
USIM Suksis Corps is one of the credited uniformed body courses offered by USIM Soft skills Development Centre. The undergraduates are selected by PDRM as trainees and will attend a six semester (three years) courses and training period throughout their studies before being accredited.
This is the 9th cohort of Volunteered Inspectors of Police since USIM Suksis Corps was established in 2006.
Prepared by:
Mohd Zaini Othman
Strategic Communication Centre (StraComm)
Level 1, Canselori Universiti Sains Islam Malaysia (USIM)
71800 Nilai, Negeri Sembilan
Tel : 06-798 8026/8027/6284 Faks : 06-798 8204