NILAI, Jan 26, 2017 – A total of 10 staff members from Universiti Sains Islam Malaysia (USIM) were awarded in conjunction with the D.Y.M.M Yang Di-Pertuan Besar Negeri Sembilan 69th birthday at Istana Besar Seri Menanti, Kuala Pilah.
YBhg. Prof. Dr. Zulkfile Abd Ghani, Deputy Vice-Chancellor (Academic and International) of Universiti Sains Islam Malaysia (USIM) was among those awarded the Bakti Setia Negeri Sembilan (D.B.N.S) with the title of Dato', as well as Prof. Dr. Wan Omar Abdullah, a lecturer at the Faculty of Medicine and Health Sciences (FPSK).
Prof. Dr. Zulkiple, 52, was schooled at Kolej Islam Klang, then he continued his studies at Universiti Kebangsaan Malaysia in the field of Da'wah Studies and Leadership (1990). Later, he furthered his studies at the University of Edinburgh, Scotland, where he received a PhD in the field of Da'wah and Islamic Media (1996).
In USIM, he was entrusted with a number of responsibilities, namely as a member of the board of directors (2012-2015), dean of the Faculty of Leadership and Management (2012-2015), head of Research Cluster (Jawhar 'Ulum Islamiyyah and Ummah Development), and the Chief Editor of 'Ulum Islamiyya Journal. He was also appointed as a visiting professor at Kolej Universiti Islam Antarabangsa Selangor (KUIZ). He previously served for 19 years at Universiti Kebangsaan Malaysia (1990-2009), assumed the position of Chairman of Da'wah and Leadership Studies Department (1997-2003), and was a Senior Fellow at the Institute of Islam Hadhari, UKM.
Furthermore, he has written 24 books, 32 journal articles on international and national levels, attended more than 170 conferences, locally and abroad, and supervised 21 PhD students and 8 students master.
In his professional service, he was involved as an assessor for the National Academic Award (AAN), an evaluator for Ministry of Higher Education's (MoHE) research grants, a panelist for the Islamic Consultative Council (MPI), and Chairman of the National Da'wah Policy Cluster. He was a moderator for the TV program Diskusi on TV1 (more than 50 series in 1999-2000) and Persada Jurnal (2010), and he was invited to deliver a lecture in the presence of KDYMM Raja Istri Pangiran Anak Saleha, the Queen consort of Brunei Darussalam (August 24, 2016).
In 2016, Dr. Zulkiple was awarded the Johan Mangku Negara (J.M.N.) medallion by the Yang di-Pertuan Agong, and was awarded the Royal Scholarship (1986). In addition, he won the gold medal at the 23th International Invention, Innovation and Technology Exhibition (ITEX 12), a silver medal at The Exposition on Islamic Innovation (i-Inova) in 2012, and a gold medal in Research Poster Exhibition competition at UKM in 2005 and 2006.
His contributions and active involvement entitled him to receive the Outstanding Service Award 2000, 2006 (UKM), the Outstanding Lecturer for Social Sciences Award in UKM, 2002, the Special Outstanding Service Award 2013, Outstanding Service Award 2013, Research Award (Social Sciences Category, Best Researcher) 2013, and the Community Engagement Award (Project Category) 2013.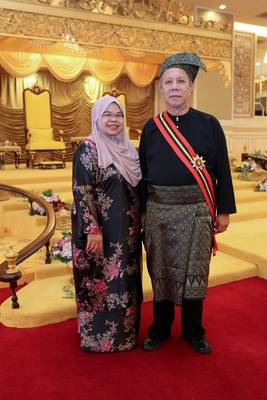 Prof. Dr. Wan Omar, 64, a senate member at USIM, holds a Doctoral degree in Veterinary Medicine from Pakistan Agriculture University, Faisalabad. He previously served in UKM and UPM in the field of medicine and public health, and he is currently the Chairman of USIM's Committee for Research Ethics.
He is actively involved in community activities related to health care through Complementary Medicine. He was appointed as an advisor for the Malaysian Homeopathic Medical Council, and also for the Association of Traditional Chinese Medicine Practitioners in Negeri Sembilan.
He was also involved in the education and welfare of special children and people with disabilities (PWDs) like autism.
He also served as the chairman for the Education and Welfare bureau for several non-government organizations, such as the National Autism Society of Malaysia, and the International Scientific Publication Award. As Project Director, he was involved with Community Service operations (OPKIM) among the universities and the corporate bodies for the welfare of aboriginal communities in Negeri Sembilan in fulfillment of corporate social responsibility (CSR).
At the same event, among USIM's staff members who also received awards are Prof. Dr. Muhammad Taufik Mohd Nor (FPSK), who was awarded the Darjah Setia Negeri Sembilan (D.N.S).
Five of USIM's staff members received the Ahli Setia Negeri Sembilan (A.N.S) award, they were Mr. Hammad Farhi Mohd Saudi; Head of Academic Admission Division, Mr. Asri Husain; Senior Deputy Director of Strategic Communications Center, Ms. Hariza Mohd Yusof; Head of Publication Division, Mr. Nur Ekmal Buhary; Youth and Sports Senior Officer, and Dr. Hjh Azlina Mokhtar from FPSK. The Pingat Khidmat Cemerlang Masyarakat (P.M.C) was awarded to Mr. Zaini Othman, an assistant registrar at the Strategic Communication Centre, and Mr. Mohammad Istiaq Abdul Shukor, a health care assistant in FPSK.
Prepared by:
Syazlyna Jamil
Strategic Communication Centre (StraComm)
Level 1, Canselori Universiti Sains Islam Malaysia (USIM)
71800 Nilai, Negeri Sembilan
Tel : 06-798 8026/8027/6284 Faks : 06-798 8204