KUALA LUMPUR, 31st October 2022 – UNESCO Knowledge for Change (K4C) Learning Residency 2022 is an international training program to produce community-based research mentors among all community activists, consisting of academics and social organisations from all over the country. Led by the Mizan Research Center of the Faculty of Leadership and Management, Universiti Sains Islam Malaysia (USIM), through the Mizan K4C Hub and the International Youth Center (IYC), Kuala Lumpur, this program was inaugurated by YBhg. Dato' Jana Santhiran Muniayan, Secretary General of the Ministry of Youth and Sports.
This year, it will be held in Malaysia, and this time, UNESCO K4C Learning Residency Course brings together mentors from cohorts five to eight, starting from October 30 to November 6, 2022.
According to USIM FKP Mizan Project Leader, Associate Prof. Dr. Mahazan Abdul Mutalib, this course, organised by the School of Continuing Studies, University of Victoria (UVic) Canada for 21 weeks, consists of three main components of learning which are online learning activities from UVic, learning through a two-week face-to-face residency in Kuala Lumpur, and work field experiences that will be conducted with local communities in their respective locations.
"A total of 41 mentors from eight countries, namely Burkina Faso, South Africa, Mexico, Ireland, Canada, India, Indonesia, and Malaysia, attended the K4C residency course in Kuala Lumpur this year, with the main objective is to train the participants in community-based research skills (CBPR) through the cooperation of various parties. This program recognises that the process of knowledge development does not only take place at the university but is also actively implemented in the field". He said.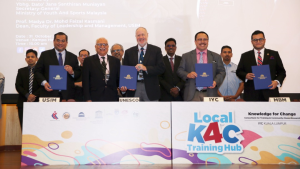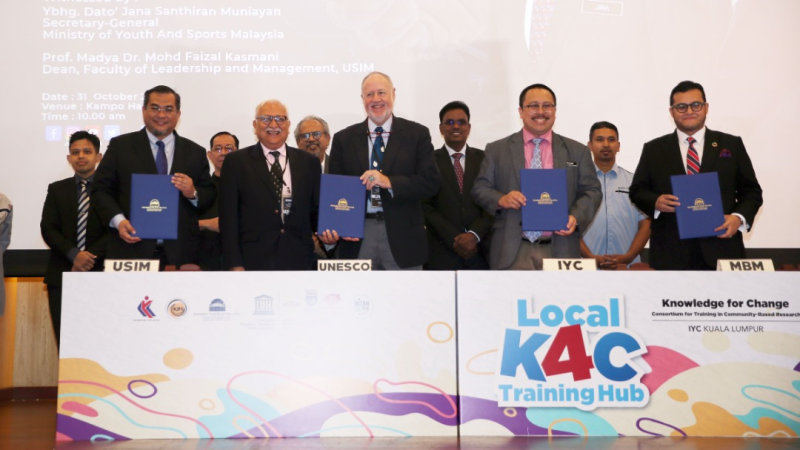 Meanwhile, at the same event, a Memorandum of Understanding (MoU) signing ceremony was held between USIM and the UNESCO Chair in Community Based Research and Social Responsibility in Higher Education, the International Youth Center (IYC), and the Malaysian Youth Council (MBM) for the continuous cooperation and involvement in the UNESCO K4C networking and the organisation of K4C training at the national and regional levels.
USIM was represented by Vice Chancellor Prof. Ts. Dr. Sharifuddin Md Shaarani, while UNESCO was represented by the UNESCO Chair in Community Based Research and Social Responsibility in Higher Education Prof. Emeritus Dr. Budd Hall and Dr. Rajesh Tandon, the IYC was represented by Director Dr. Mohamed Maliki Mohamed Rapiee, and the Malaysian Youth Council was represented by President Mohd Izzat Afifi Abdul Hamid.
The UNESCO K4C consortium now has more than 22 hubs in 13 countries around the world.
Prepared by:
Pusat Komunikasi Strategik (StraComm)
Aras 1, Canselori Universiti Sains Islam Malaysia (USIM)
Bandar Baru Nilai, 71800 Nilai Negeri Sembilan