NILAI, February 22, 2018 – A number of 86 participants have been successfully accomplished the Certificate of Professional Halal Executive (PHEP) programme and they are celebrated in a grand certificate-giving ceremony officiated by YB. Senator Dato' Dr. Asyraf Wajdi Dato' Dusuki, the Deputy Minister in the Department of Prime Minister (Religious Affairs), who is also a Mentor Deputy Minister of USIM.
Professional Halal Training Programme (PHTP) which has been producing its graduates since its establishment in 2014, is conducted by the Institute of Halal Research and Management (IHRAM), Universiti Sains Islam Malaysia.
"IHRAM plays a significant role in disseminating knowledge for the benefit of Halal industry and for the ummah at large. Such collaboration between university and industry shall be retained and synergized in order to achieve the national agenda on Halal industry and it is also hoped that Halal industry can penetrate the international market," said YB. Senator Dato' Dr. Asyraf Wajdi in his officiating speech.
To elaborate further on this programme, the Director of IHRAM, Assoc Prof Dr Che Wan Zanariah Che Wan Ngah stated that PHEP has caught big interest from the industrial players with participation from 50% multinational companies (MNCs), small-medium enterprises (SMEs) and graduands from various academic backgrounds.
"The study on employability and marketability study has shown that almost all alumni of PHEP has secured their jobs within six months after their graduation," she added.
In USIM, IHRAM champions all trainings in Halal industry and Halal consumerism education (Halal Istihlak Education) in line with the aspiration of USIM in being the global reference centre.
Professional Halal Training Programme (PHTP) consists of three (3) professional certificate programmes namely Certificate of Professional Halal Executive (PHEP), Certificate of Professional Halal Analyst (PHAP) and Certificate of Professional Internal Halal Auditor (PIHA). The idea to establish the PHTP was coined from the Knowledge Transfer Programme (KTP) "Flagship Project-Industry", a collaboration project by IHRAM, TPM Biotech Sdn Bhd and Halal Industry Development Corporation Sdn Bhd.
In the ceremony, a research team from USIM, led by Assoc. Prof Dr Azman Abd. Rahman has launched the Global Halal Game, which is an entertaining and interactive board game on Halal education.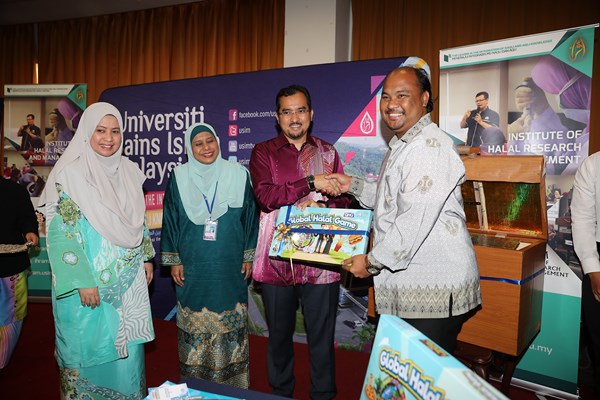 Prepared by:
Syazlyna Jamil
Pusat Komunikasi Strategik (StraComm)
Aras 1, Canselori Universiti Sains Islam Malaysia (USIM)
71800 Nilai, Negeri Sembilan
Tel : 06-798 8026/8027/6284 Faks : 06-798 8204