NILAI, May 23, 2018 – Professor Tan Sri Dato' Dzulkifli Abdul Razak, Founding Convener of Sejahtera Leadership Initiative (SLI) and Chairperson of Universiti Sains Islam Malaysia (USIM) has agreed to be the lead keynote speaker at Sejahtera Seminar promoting Sustainabilty and Compassion scheduled October 13, 2018 at Xavier University Bhubanerwar (XUB) in Odisha, India. This in-house seminar for post-graduate students and faculty members is being organized by XUB Centre of Humanities and Compassion Studies (XCHCS) and the School of Sustainability (XSOS) in collaboration with SLI. The accompanying SLI Team members facilitating this seminar will include CEO Dr. Zul, Principal Consultant Yazdi Bankwala (Spore) and PhD student Johan Dzulkifli (UK).
The objective of this seminar is for SLI to share the fundamental living theory and conceptual framework of Sejahtera linking its application and practices in corporate and institutional setting in Asia and Latin America. Where does Sejahtera come from, and where are we headed? So, put Sejahtera values to work. According to XCHCS Chair Professor Dr. Nadarajah Manickam (Nat), the outcome of this seminar is to design and develop an elective post-graduate course on Sejahtera Leadership. In this context, Dr. Nat has formalized the appointment of Professor Tan Sri Dzul as a Distinguished Professor-at-large with XCHCS.
In accepting this appointment, Professor Tan Sri Dzul said, "While advances in science and technology may substantially change the way we live our daily life, the need for human values, Sejahtera relationships and interactions bacially remains the same. The profound Sejahtera yesteryear are as relevant and effective today as they were before. For example, the 'rule of reciprocity' which says 'Do unto others as you would have them do unto you'. This should be adopted by every society. You would want someone to help you when you have a flat tyre on the road, so help someone in need. You would not want to breathe in second-hand smoke, so do not pollute someone else's air. The list goes on. Despite real-life experiences that make us think this is more ideal than practical, we should hold fast to and act on this golden rule consistently. When our efforts bear fruit, we will experience the true meaning of Sejahtera."
During Ramadan intellectual discourse, Dr. Nat presented his book entitled 'Another Malaysia Is Possible And Other Essays – Writings on Culture and Politics for a Sustainable World' to Professor Tan Sri Dzul. The theme of sustainability holds this book together, like a string holding beads together. Dr. Nat presents a cogent argument for seriously tackling the vital aspect of sustainability in all our endeavours – not only in resource consumption and environment actions, but also, more importantly, in all our day-to-day social, political, cultural and economic endeavours. This book is his timely contribution to all Malaysians.
The discourse concluded congratulating Dr. Maszlee Malik on being appointed Education Minister of Malaysia who will helm the newly merged Education Ministry and Higher Education Ministry. The merger can strengthen the development of Malaysia's education sector for the long term need in addressing human beings issues. It was heartwarming that Dr. Maszlee's long-term goal is to make sure the education system of Malaysia will be world class or on par with developed nations. SLI is indeed encouraged with his determination to instil the values of 'love, happiness and mutual respect' into the education sector.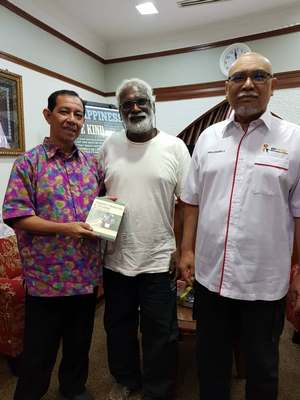 Prepared by :
Dr. Zulkifly Baharom
CEO Sejahtera Leadership Initiative