NILAI, January 16, 2018 – Soka Gakkai Malaysia (SGM) President Michael Kok Fook On accompanied by Vice President Johnny Ng Teck Sim and General Director Koh Sia Feai visited Professor Tan Sri Dzulkifli Abdul Razak, Chairperson of Universiti Sains Islam Malaysia (USIM) who is Founding Convener of Sejahtera Leadership Initiative (SLI) and CEO Dr. Haji Zulkify Baharom over a working luncheon meeting. This is the 1st Anniversary of their bilateral relations in strengthening collaboration between SGM and SLI through a variety of international programs in 2018.
During this meeting, Prof Tan Sri Dzulkifli informed the visitors that he has received an invite from the Association of South East Asian Higher Institutions of Learning (ASAHIL) based in Bangkok as one of the speakers for March 23, 2018 Conference on Sustainable Development at the Soka University In Hachioji, Tokyo This is the first time ASAHIL organizing such conference in Japan. As such, the date is yet to be confirmed.
The Japanese Ministry of Education, Culture, Sports, Science and Technology (MEXT) in 2014 had designated Soka University as one of Japan's Super Global Universities. The University owned by Soka Gakkai International (SGI) has 8 faculties with a total of 8,000 students of which 400 are international students. Its has 50,000 alumni. Soka University of America is a branch campus located in Aliso Viejo, California.
In April 2018, SGM will be organizing Interfaith Dialogue at Asia Culture and Education Center (ACEC) in Johor Bahru. Her Majesty Sultanah of Johor is expected to grace its royal opening. For this dialogue, top notch international speakers representing the various religions will be invited and Prof Tan Sri Dzulkifli has accepted to be the moderator. The objective is to establish the commonalities for sustainable peace and harmony.
SGM recognized a growing number of students at university aren't just focusing on their studies or social life, but on starting their own small businesses. " At SGM, we're making sure our next generation of entrepreneurs get the support and encouragement they need to succeed. Student business is big business nowadays. Taking the entrepreneurial route and starting a business is a great way for students to earn an income as well as gaining business experience across a range of disciplines. SGM hopes to collaborate with USIM in this area," said Michael.
In reflection the impact of July 16, 2017 visit organized by SLI to Universiti Teknologi Malaysia (UTM) Sustainable Campus in Skudai, President Michael Kok was impressed with the success models of community development work on future sustainable programs. He has seek Prof Tan Sri Dzulkifli's views on how to leverage the eco experience of UTM to showcase such green technology at the various SGM Cultural Centers. A Panel of Advisers will soon be appointed by SGM to spearhead the fulfillment of this future innovative green technology at the space available.
As a tradition of appreciation, SGM General Director Koh Sia Feai and Prof Tan Sri Dzulkifli exchanged their latest collection of books entitled 'Sepanjang Hayat Mencari Keamanan: Sebuah Dialog' and 'VOICING CONCERN: In Conjunction with the 60th Merdeka Anniversary & Hari Malaysia' respectively. Following the meeting, Prof Tan Sri Dzulkifli had also accepted a media interview with a Journalist Yosuke Kaneda from Seikyo Shimbun, Tokyo the Soka Gakkai International daily newspaper with 50,000 circulation world-wide. At USIM, the journalist and team had briefing and guided tour of the campus and spend quality time visiting Pusat Penyelidikan Mizan (PPM) and the Japanese Culture Center.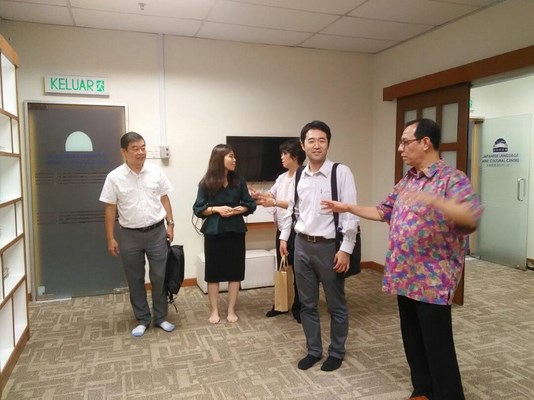 Prepared by :
Dr. Zulkifly Baharom
CEO Sejahtera Leadership Initiative