NILAI, September 4, 2018 – Universiti Sains Islam Malaysia (USIM) has received 2,198 new students for the 2018/2019 academic session, with 1,560 female students and 638 male students from a total projection of 2,773 places offered for 27 undergraduate programs. Meanwhile, 19 international students also enrolled from Singapore, Indonesia, Gambia, Nigeria, Cambodia and Libya.
This year, the Faculty of Economics and Muamalat records the highest number of students, at 403, followed by Faculty of Quran and Sunnah at 399, Faculty of Science and Technology at 383, Faculty of Sharia and Law at 290, Faculty of Leadership and Management at 283, Faculty of Studies and Main Language at 266, Faculty of Medicine and Health Sciences at 81, Faculty of Engineering and Architecture at 58, and the Faculty of Dentistry at 35 students.
Meanwhile, 179 graduate students, including 7 international students, have registered themselves as Graduate students to continue their studies at USIM.
USIM Vice-Chancellor Professor Dato Dr Musa Ahmad in his speech said, as a University based on the Knowledge Integration of Naqli and Aqli, USIM is determined and committed to continuously empowering its students with a strong sense of identity and complete professional skills based on Islam as the main driver in ensuring USIM graduates are able to compete in the increasingly challenging workplace. To ensure that this will continue to be relevant both nationally and globally, USIM will continue to strive to strengthen and elevate its reputation as a pioneer of studies and research based on Islamic Science.
YAB Tuan Haji Aminuddin Harun, Negeri Sembilan Menteri Besar in his speech said it was the hope of the State Government to enable USIM students to delve into the knowledge acquired here and to carry both the names of Malaysia and Islam to greater heights of recognition.
"The combination of conventional knowledge discipline with Islamic education introduced by the Islamic Science University of Malaysia will not only produce knowledgeable and skilled human beings, but is also an effort to create quality people with a strong sense of identity and spirituality."
"In the context of being grateful of the peace achieved in this country, let us cultivate love for the homeland, not sparking nuisance that defaces the homeland, and always being devoted to serve the society and nation according to our respective capabilities and expertise. Stay away from being caught up in terrorism and extremist groups that can harm and diverge religions and countries," he said at the conclusion of the Pledge Ceremony of New Student for the 2018/2019 session.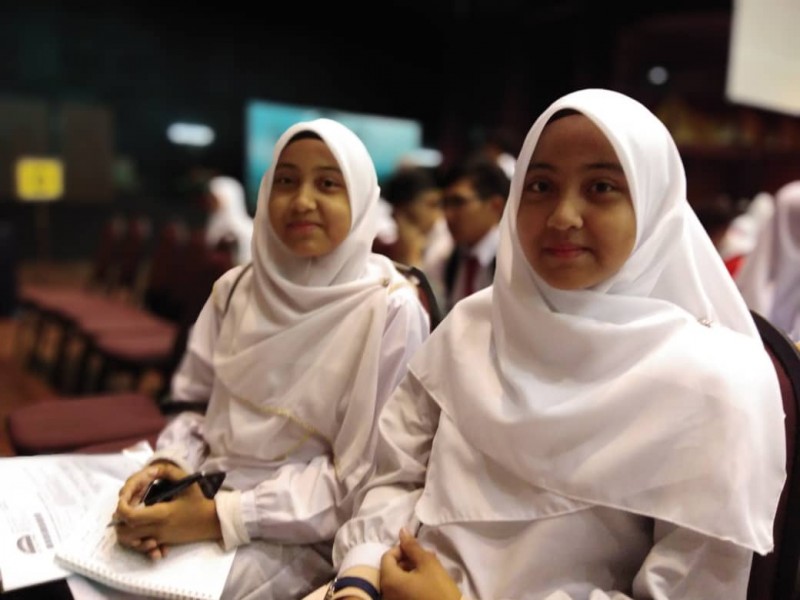 For twin sisters Siti Mariani and Siti Mariana Bt Ismail, 19, from SMKA LATI, Pasir Mas Kelantan, the youngest of six siblings are both happy and grateful to continue their Bachelor Degree studies at the Faculty of Science and Technology. Prior to this, Mariani was a student of Tamhidi Foundation studies at USIM, while her sister Mariana studied Diploma at UITM. By making USIM their first choice, they are confident that the advantages of the Naqli and Aqli integration applied by USIM will be the best field to nurture students who are balanced in various aspects, including spiritual and physical aspects.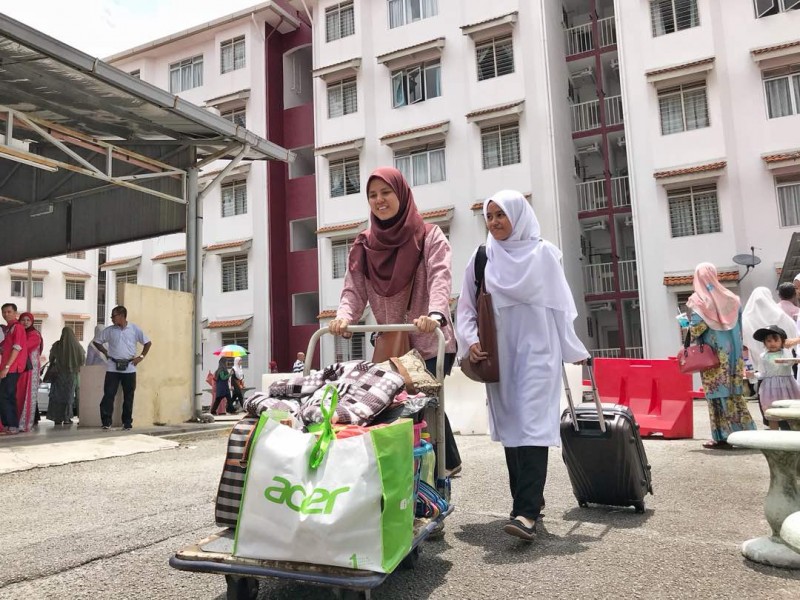 Disediakan oleh:
Noorumaina Mohamed Yunus
Pusat Komunikasi Strategik (StraComm)
Aras 1, Canselori Universiti Sains Islam Malaysia (USIM)
71800 Nilai, Negeri Sembilan
Tel : 06-798 8026/78629/78620 Faks : 06-798 8032