OMAN, 2nd February 2023 – Universiti Sains Islam Malaysia (USIM) maintained its reputation as the best Arabic debating team when crowned as the winner in the 2nd Asian Arabic Debating Championship for the Non-Native Speaker category which took place at the Oman Convention and Exhibitions Center (OCEC), Muscat, Oman which started on January 29.
Muhammad Afiq Arsyad Awang @ Tarmizi from the Faculty of Economics and Muamalat was named the Top 2 Best Debater, while Maisarah Ahmad Azmi from the Faculty of Syariah and Law was named the Top 5 Best Debater.
USIM was also represented by two other debaters, Haafizah Mohd Rosli and Nur Rasyiqah Unigkutti, who are also from the Faculty of Syariah and Law.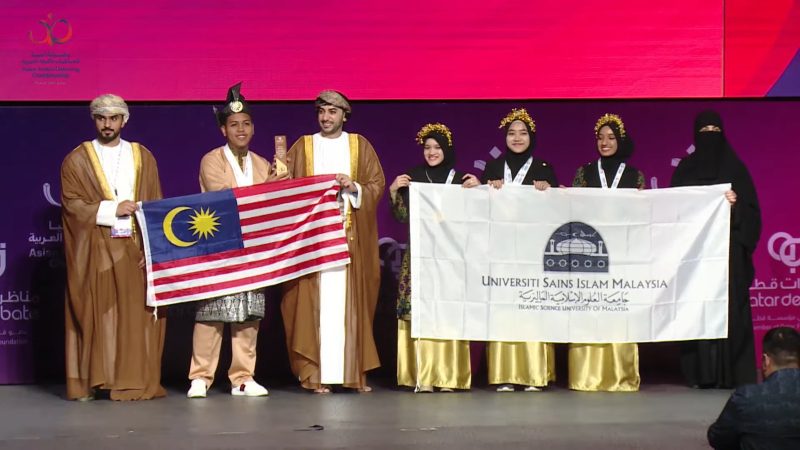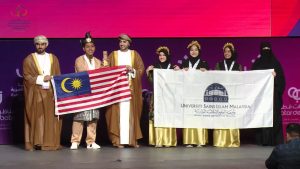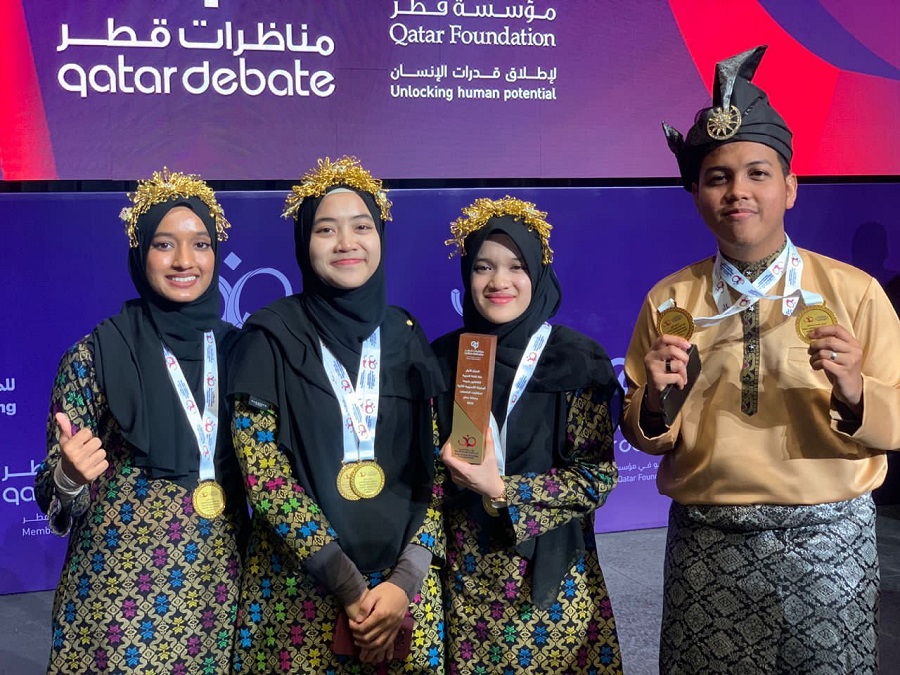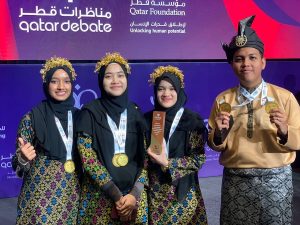 Ahmad Norsyafwan Norawavi, a language teacher at the Centre for Core Studies, USIM who is also the coach of the Arabic debate team, says, "The preparation is just like usual, with a schedule set and friendly competition with Arab and ASEAN universities online, as well as the presence of USIM alumni debaters who come down together, which helps increase the motivation of these young debaters to compete with full confidence."
"We appreciate the support of the university management, especially the Deputy Vice-Chancellor (Student and Alumni Affairs), Professor Dr. Adnan Mohd Yusoff, the Student Affairs Center (PHEP), and the debaters who are willing to commit to training even though they are in the midst of the final exam preparation. May this victory inspire other students to choose Arabic public speaking as a medium to hone their talents. "Hopefully, the Arabic-language debate activities will continue to be supported and be able to bring the name of Malaysia and the university to the international level," he said.
The tournament, organized by the Ministry of Culture, Sports and Youth, Sultanate of Oman, in collaboration with the Oman Debate Center and the Qatar Debate Centre, saw 42 teams competing, which included several training programs and competitive rounds. A total of 320 participants from 18 countries participated, namely Qatar, Oman, Australia, Azerbaijan, India, Iraq, Jordan, Kuwait, Lebanon, Malaysia, Indonesia, Pakistan, Palestine, Saudi Arabia, South Korea, Thailand, Vietnam, and Yemen.
Prepared by:
Nor Fadzlina Azahari
Pusat Komunikasi Strategik (StraComm)
Aras 1, Canselori Universiti Sains Islam Malaysia (USIM)
Bandar Baru Nilai, 71800 Nilai Negeri Sembilan