TERENGGANU, 9 October 2017 – The International Conference and Exposition on Inventions by Institutions of Higher Learning (PECIPTA 2017) saw Universiti Sains Islam Malaysia (USIM) emerge victorious when they successfully bagged 3 gold, 1 silver dan 4 bronze awards, including 1 Special Award. The 3 gold awards were secured for the following products: Muamalat Interactive Game (MIG), Global Zakat Game: Bijak Zakat (GZG) and Halal Universe: Farm to Fork. In addition, MIG also won the Special Award: Community Edition.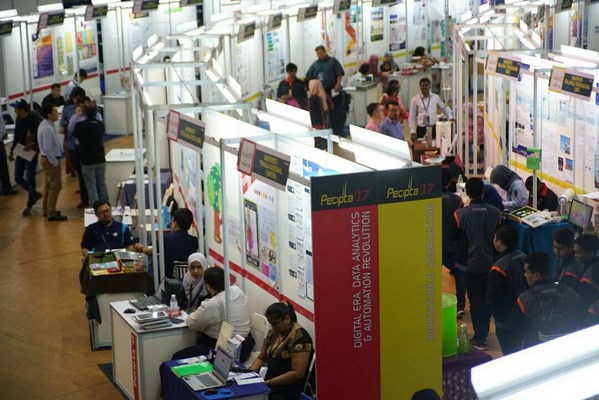 PECIPTA 2017 which was held beginning 7 October was jointly organized by Universiti Sultan Zainal Abidin (UniSZa) and Universiti Malaysia Terengganu (UMT) with the theme "Nurturing Entrepreneur Through Education, Industry, Technology and Social Innovation". The event took place at Gong Badak Sports Complex Indoor Stadium, Kuala Nerus, Terengganu.
"Muamalat Interactive Game (MIG) Community Edition is a learning tool aimed towards helping society gain understanding of the concept of Muamalat, Islamic financial management dan philantrophic activities such as donations, giving alms (sadaqah) and waqf. Every month, players will undergo simulation of financial management process in terms of debt management, cash management, and the management of the gold and share markets. It offers an alternative to existing financial games by adding on the value of the Islamic financial system which is learnt and understood in a fun and interactive learning environment," explained Pn Syahidawati, a lecturer at the Faculty of Economics and Muamalat.
The Halal Universe: Farm to Fork product, where Pn Syahidawati was also a participant, is an educational innovation, in the form of simulation of the process of application for halal certification from JAKIM.
"This simulation creates real-life situations and issues relating to halal certification management for players (halal managers). It offers understanding and awareness of 3 things, namely management of halal certification, business management and the importance of philantrophic activities such as donations, giving alms (sadaqah) and waqf. This innovative product creates real experiences on halal management and business management during the conduct of halal training. It not only adds value to the existing halal training, but is capable of increasing the level of efficiency and organization of halal management in order to cut costs related to inefficient halal management," she said.
In relation to GZG, it is a product similar to the board game Monopoly which has been adjusted to be an easy-to-follow game by incorporating elements of zakat. Brainteaser questions with different levels of difficulty are also formulated, to be suitable for all ages.
"When playing GZG, players can increase their knowledge about zakat in a relaxed way and in fact they can measure their expertise in calculating the amount of zakat on property (zakat harta) among the zakat collectors (amil)," said Dr Azman Ab. Rahman, a lecturer at the Faculty of Syariah Law.
Among the other products which earned bronze prize are Interactive, Wireable, Device for Dua and Quran Memorizing Using NFC Technology, A New Quranic Braille Reading Model (IQIT), Smart Disaster Application (SDA) and USIM Mizan Homestay.
The closing ceremony of PECIPTA 2017, which was officiated by the Chief Director of Higher Education, Datin Paduka Ir. Dr. Siti Hamisah Tapsir, gathered a total of 10 clusters made up of competing participants from Public Universities and Private Universities in Malaysia and overseas.
Prepared by:
Syazlyna Jamil
Strategic Communication Centre (StraComm)
Level 1, Canselori Universiti Sains Islam Malaysia (USIM)
71800 Nilai, Negeri Sembilan
Tel : 06-798 8026/8027/6284 Faks : 06-798 8204