Studies on issues related to Islam and Muslims in the media is a never-ending debate and is always updated from time to time. It catches attention from academics, scholars, preachers, and researchers to discuss the alternative platform in reducing or somewhat controlling what the media should report about particularly on Islam and Muslim related issues. From the significant incident that happened on 9/11 (11 September 2001 attack), it has moved to other issues such as violence, conflicts, indiscrimination, economic disparity, crisis, poverty, etc which involved Islam and Muslim societies. News coverages that mostly portray Islam and Muslims are negatively framed by the global media. Aljazeera in 2019 reported that world leaders faced several major issues such as Islamophobia, poverty, the Rohingya refugee crisis, the economic disparity faced by Niger (one of the OIC members country), and the issue of the Uighur minority in China. Recently, the Yemen crisis such as unlawful airstrikes, attacks on civil society, discrimination, violence against women, children and armed conflict and many more have been reported widely by the BBC news on 19 June 2020. On top of that, the largest country in the South East Asia region, India has become the main target to be blamed for a pandemic of Covid-19 as reported by The Guardian on 13 April 2020. Not only that, but India also faced other issues such as reports of Muslims being burned alive in their homes or dragged out into the streets and lynched. Muslim businesses and properties were also set alight. The violence raged across the north-east of India's capital for four days as mosques were set on fire (The Guardian, 2020).
The project to develop a writing skills formula (from the Islamic perspective) aims to provide room for improvement on how to write news related to Islam and Muslims especially to give exposure to journalism students, journalists, and individuals. On top of that, the most significant and imperative points of this research are to discover the best practice to enlighten the new phenomenon of reporting for Islam and Muslim related issues by putting aside formulas from the West. This research gained data by interviewing media practitioners. Ideas and discussions that happened during the interview have triggered the awareness to create a new formula in news writing skills which is relevant to be applied firstly among journalism students. During the process of data collection also, the researchers aimed at finding out whether media practitioners know about Islam and Muslims and aware or not of how to produce a good news reporting style specifically on the issue of Islam and Muslims around the globe. Finally, with the collaboration with key personnel in the media industry, the formula on news writing skills namely the Islamic Journalistic Model of News Writing (LY2019007145) has been developed and this is very much related to the objective of USIM to embark on the Naqli and Aqli knowledge in teaching and learning.
However, for teaching and learning purposes and in line with media and technologies, we have developed an app in Google Play Store and transformed it into Augmented Reality (AR). We named this app as FAITHFUL AR. This technology can enhance teaching and learning methods and the learning and understanding of this formula will be more fun and interesting. This is because it allows the students to train their skills and practice it. This formula can be accessed easily and anywhere as this is very hands-on in enhancing their news writing skills, especially concerning Islam and Muslim issues. In conclusion, we hope that this small contribution can help journalists or journalists-to-be with the right reporting techniques when covering news on Islam and Muslims. Most importantly, this project could also substantiate and help increase consciousness on the importance of how to write about Islam fairly which eventually can help to promote the image of Islam and Muslims with good values and respect.
Islamic Journalistic Model of News Writing (LY2019007145)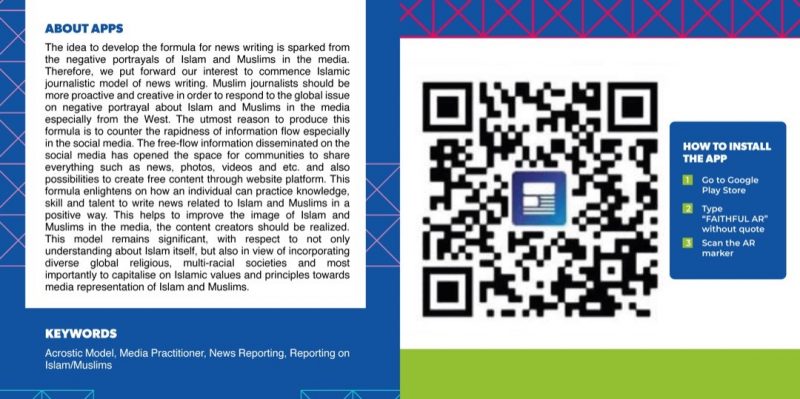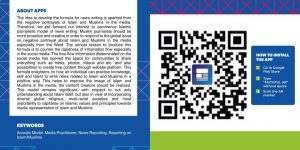 Research Members:
Dr. Sofia Hayati Yusoff
Dr. Osama Kanaker
Muhamad Zaki Mustafa
Funding Acknowledgement:
This research has been funded by the Research and Management Innovation Centre (RMIC) of USIM (PPPI/FKP/0217/05100/10918) from March 2018 until March 2021.