Innovation and integrated knowledge of  Naqli & Aqli in Robotics Challenge Al Jazari
What was initially a proposal to organize a meeting in FKAB between organizers of Robotics Learning (M) Sdn. Bhd. with USIM who was represented by Director of PIJIM, Dean of FKAB, and Kolej PERMATA Insan, a world-class competition that has won the Guinness World Record in 2016 as the biggest robotics competition in the world was tabled into the meeting of Board of Directors and was agreed to organize it at DTC USIM on 18 and 19 February 2017 .
This competition is organized to select the Malaysian representative to the annual world championship in Kentucky, USA, in April. The teams in this match are the teams that have received training for several years from the Robotics Learning Sdn. Bhd. who is the sole representative and coaching partner of  VEX Robotics in Malaysia since 2009. This year's tournament will bring together 40 teams from all over Malaysia including a two-year representatives of Malaysia, Sekolah Tun Fatimah (STF) and the Malay College Kuala Kangsar (MCKK), who competed in two format tournaments for this season namely VEX IQ Challenge Crossover (category 8 to 13 years old) and VEX Robotics Competition Starstruck (category 14 to 18 years old).
Team from PERMATA Insan USIM is the last team to receive the green light to join in the competition for category VEX Robotics Competition Starstruck namely the challenge of designing robot that has to hold a six-pointed star and cube cushions that need to be thrown off and pushed over the railing into the opponent's court. Two teams have been sent to participate in the competition on USIM ticket as the organizer.  As for PERMATA Insan USIM which has only been in operation for 26months, this is its inaugural participation into the VEX Robotics Competition, and into any world-class robotics competitions.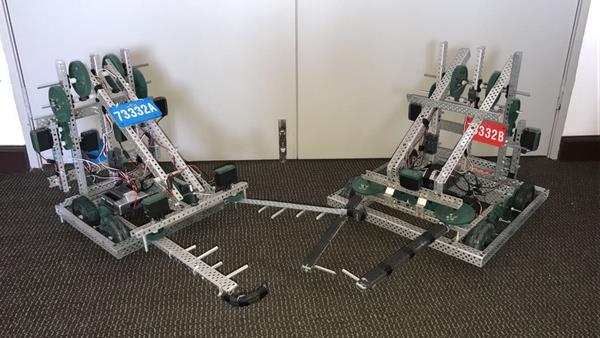 The trust given to Permata Insan is to see its students' intelligence and talent or they as they call themselves GEM GTi to prove something beyond expectation. A senior lecturer at Kolej Permata Insan who is also the mentor student research program, Dr Faszly Rahim, answered the challenge and took the initiative to join GEM GTi team of 10 members who has keen interest in Computer Science, Computer Engineering, Mechanical Engineering, Mechatronics, and Aerospace Engineering to participate in the competition.
Located at Roboticist Bangsar Village II, Robotics Learning training center (M) Sdn. Bhd., PERMATA GTi team would commute using the services of Rapid KL Komuter and Rapid KL Tren and walk over 5 km to get there for several days to undergo a training session. Both teams only had one month from the date of the competition to make preparations. The teams only had 16 hours to focus on the theory and to gain exposure to the format of the competition to design and build their robots at the competition venue.
In addition, they needed to make any modifications to the problems identified and need to write programs for the robot automation during the training session there. Every step of the engineering design, construction and programming were to be recorded in detail in a research book provided in the group participation kit within that short period of time. Once the robot is designed and prepared, they have only 10 days to test the robot and solve any glitches and technical problems faced.
VEX Robotics challenge tournament format involves several awards, namely, Design Award, Programmer Award, Driver Award, Award for Innovation and Excellence Awards that are to be won through the recorded process of engineering and science in the research book and through presentations during the competition. However, the main focus during the match is the battle against time in the league championship.
In the league championship, both PERMATA teams joined forces with colleagues from other teams including from Tun Fatimah School, MCKK A, TKC B, Roboticist, and met with PERMATA GTi for points to qualify as the top 5 in the league, The PERMATA Insan 2 led by Aiman Hakim (14 years) was ranked first in the league, while the PERMATA Insan 1 led by Abdul Razzak Khan ranked 3rd after MCKK A while MCKK B at No. 4 and STF in 5th place.
In the semi-finals of VEX Robotics Format Competition, the team that finished top five could choose robot "comrades" to face the opponents. PERMATA Insan teams decided to join forces to defeat MCKK collaborated team of MCKK A and B. This was a battle that witnessed which team was more experienced to win the Starstruck Challenge. PERMATA GTi did not go home empty ended when PERMATA Insan 1 successfully brought home the Innovate Award.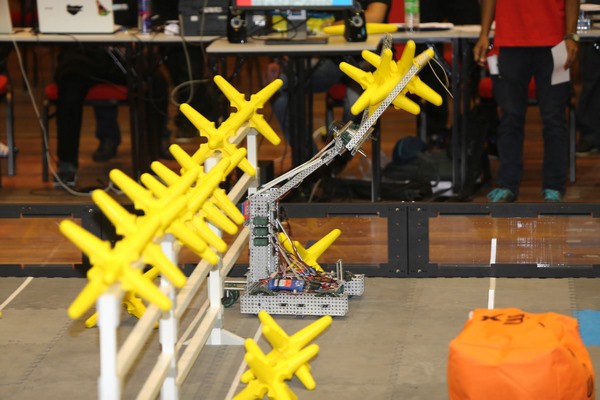 The Juries, at certain times, visited the booths. Each team was required to present design of their respective ideas and innovation on their robot to solve the problems highlighted. Physics theories and their innovation concept should be integrated with each construction and modification.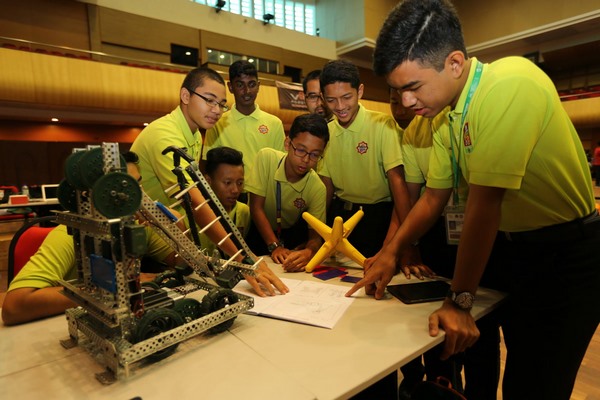 Team PERMATA Insan 1, in innovating the design of their robots, gained inspiration from the arguments of Naqli and aqli through tadabbur verse 36 of Surah Al An`âm which demanded human to observe the life of creatures of the land and birds that fly which are similar to the lifestyle of mankind.
They have taken the design of a male Stag Beetle fighting as an inspiration to design the claw of their robot they named GEM GTR (Gifted and Talented robot) as stars and cubes into the opponent's rings similar to how the male stag beetle fights for the mating partner.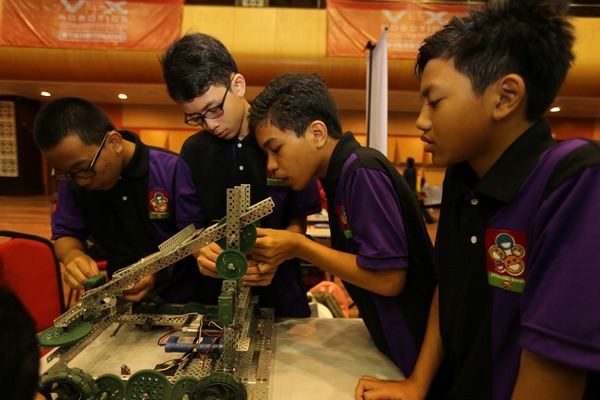 For team PERMATA Insan 2, their robot was inspired by the verses 27 and 28 Surah Fatir to describe the diversity of God's creatures and An-Nur verse 25, which describes the movement of animals. They took inspiration from the scorpion claw that served as a model in the fight against time.
In the Global STEM format competition like VEX Robotics Competition what matters most is the element of research and scientific processes. Moreover, the spirit of cooperation, goodwill and team management are emphasized into the sous of future STEM leaders of the world!
Nama Team:     PERMATA Insan A
Nama Robot:     PERMATA GTr
(PERMATA Gifted and Talented robot)
Team members PERMATA Insan A:
1.    Abdul Razzak Khan Bin Rustum Ali Khan (Ketua)
Bidang kepakaran yang ingin dikuasai:
(Kejuruteraan Kecerdasan Buatan dan Visual)
2.    Muhammad Harraz Iman Bin Mazlan
(Kejuruteraan Mekatronik Industri)
3.    Muhammad Haziq Bin Bahtiar
(Kejuruteraan Mekanikal Tenaga)
4.    Muhammad Fa'iq Firdaus Bin Abdullah
(Kejuruteraan Aeronautikal Helikopter)
5.    Faisal Bin Abdul Rahman
(Kejuruteraan Aeronautikal)
6.    Ahmad Amirul Azri Bin Rohandi
(Kejuruteraan Aeroangkasa dan Tenaga Keterbaharuan)
7.    Muhammad Taqiuddin Bin Mazlan
(Kejuruteraan Perisian dan Penderiaan Jauh)
8.    Ahmad Haziq Bin Mohamed Sabri
(Kejuruteraan Rekabentuk Fuselaj)
9.    Zahir Hariz Bin Zahanis
(Kejuruteraan Dron)
10.    Muhammad Shukhairi Bin Misbah
(Kejuruteraan Mekanikal dan Aeroangkasa)
The team members have been selected among students who have established interests to lead the field of engineering and computing only by mapping that has been made by the deputy director of research at the College and mentor, Dr. Permata Insan Faszly Rahim.
Team members Pasukan PERMATA Insan B:
1.    Abdul Razzak Khan Bin Rustum Ali Khan (Ketua)
Bidang kepakaran yang ingin dikuasai:
(Kejuruteraan Kecerdasan Buatan dan Visual)
2.    Muhammad Harraz Iman Bin Mazlan
(Kejuruteraan Mekatronik Industri)
3.    Muhammad Haziq Bin Bahtiar
(Kejuruteraan Mekanikal Tenaga)
4.    Muhammad Fa'iq Firdaus Bin Abdullah
(Kejuruteraan Aeronautikal Helikopter)
5.    Faisal Bin Abdul Rahman
(Kejuruteraan Aeronautikal)
6.    Ahmad Amirul Azri Bin Rohandi
(Kejuruteraan Aeroangkasa dan Tenaga Keterbaharuan)
7.    Muhammad Taqiuddin Bin Mazlan
(Kejuruteraan Perisian dan Penderiaan Jauh)
8.    Ahmad Haziq Bin Mohamed Sabri
(Kejuruteraan Rekabentuk Fuselaj)
9.    Zahir Hariz Bin Zahanis
(Kejuruteraan Dron)
10.    Muhammad Shukhairi Bin Misbah
(Kejuruteraan Mekanikal dan Aeroangkasa)
Prepared by:
Dr Faszly Rahim
Pensyarah
Kolej Permata Insan
Updated by:
Strategic Communication Centre (StraComm)
Level 1, Canselori Universiti Sains Islam Malaysia (USIM)
71800 Nilai, Negeri Sembilan
Tel : 06-798 8026/8027/6284 Faks : 06-798 8204