SIMPLE (Self Instructional Module Template) is an improved and structured online template for lecturers develop digital teaching and learning content easily. It comes in package with guideline on how to use it with minimal IT skills. SIMPLE is developed using open source – Moodle as the platform. 4 main characteristics of Blended Mode rubrics such as Information, Content/Resources, Activities and Assessment are adapted in this template. Furthermore, the template allows the teaching and learning materials to be arranged weekly.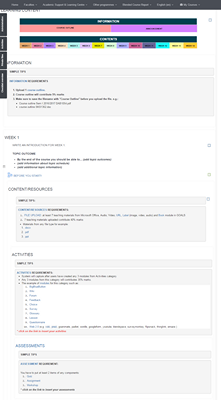 SIMPLE consists of two main creative elements, which are SIMPLE folder and SIMPLE template in the platform. SIMPLE is design with a navigation bar that is linked to each week's block. Lecturers need to categorize each teaching and learning contents into SIMPLE folder then upload the contents by category provided in SIMPLE's template.
This novel template embedded with 21st century skill-(4C) namely communication, critical thinking, collaboration and creativity. By having the template outline, the learning content developed by educators will be easier and efficient. The global online self-learners would have a more comprehensive and systematic learning material. As an alternative to the teaching and learning process, SIMPLE has long-term commercialization prospect and relevant to the educators and learners who want to self-learn and access the content anytime and anywhere.
The main purpose of SIMPLE invention is to ensure that digital content development will be more easier and get a fast result in order to achieve USIM blended learning course.
"SIMPLE is a useful tool for rapid digital teaching and learning content development. It is user friendly and really practical to be used and implement".
Value Added
• In line with 21st century skill for educators and students
• Flexible & Structured interface
• Easy to Use
SIMPLE has is a useful tool to digital content development process in preparing educational materials bank.
INTELLECTUAL PROPERTY (IP)
Copyright 2016: LY2016003918
Publication List:
1. GOALShare – Vol. 9, Nov & Dec 2015 Newsletter of The Global Open Access Learning Centre, Universiti Sains Islam Malaysia (USIM)
2. GOALShare – Vol. 3, March 2015 Newsletter of The Global Open Access Learning Centre, Universiti Sains Islam Malaysia (USIM)
Awards Received:
1. 3rd World Invention Innovation Contest (WiC) 2017, Seoul, Korea – GOLD MEDAL
2. 3rd World Invention Innovation Contest (WiC) 2017, Seoul, Korea – SPECIAL AWARDS
3. National Invention & Innovation of e-Learning (NUCEL) 2015, UPSI, Malaysia – SILVER MEDAL
Dr. Najwa Hayaati binti Mohd Alwi
Timbalan Pengarah
Bahagian Inovasi Pembelajaran & Pengajaran
GOAL-ITQAN
CO-Researcher :
Puan Nurhuda binti Ruzlan
Penolong Pegawai Teknologi Maklumat
Bahagian Inovasi Pembelajaran & Pengajaran
GOAL-ITQAN