NILAI, May 14, 2018 – The USIM Top 100 Researchers (2013-2017) Award Ceremony was organized by the Research and Innovation Management Center (PPPI) to celebrate the outstanding roles and achievements exhibited by USIM researchers in research and innovation.
Located at the Multipurpose Hall, Permata Insan College, this award presentation ceremony is a catalyst for USIM researchers to continuously excel in the future to empower academic research and innovation culture in the university.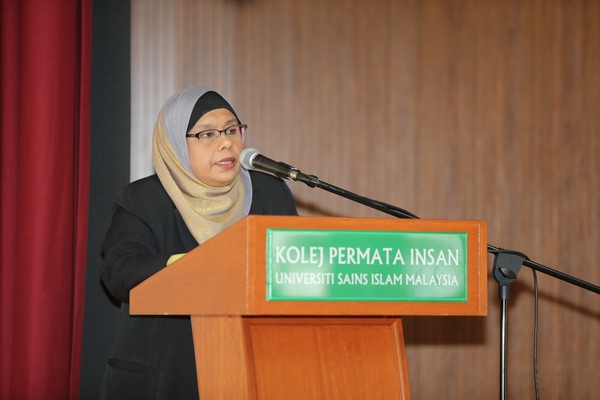 Deputy Vice-Chancellor (Research and Innovation), YBhg. Prof. Dato' Dr Roshada in his speech appraised all winners of the "USIM Top 100 Researchers 2013-2017" award for the excellence shown in theirrespective fields of research.
"The achievement in the present research is a solid foundation for us to move forward quickly to achieve the goal of becoming a more focused and quality university in producing research work," she said.
"More excellent success can be achieved if researchers maintain their commitment to achieve the target as outlined in the university's strategic plan. With the strength and number of existing lecturers and supported by the research infrastructure, we are able to improve collaborative research excellence in USIM,"she added.
Dr. Khatijah Othman, Deputy Director of PPPI, as the organizer of the event, noted that such a program is very significant to be held because it is a benchmark for the success of an academician on the research and innovation works that they have carried out during their academic years.
She further said that it is an acknowledgment of intellectual thinking in producing ideas and time used to produce academic works in the form of writing and innovation which give significant impact on the overall performance of the university.
"It is hoped that with such recognition, academicians will be more adamant to strive to improve their performance in research and innovation. It is hoped that it will not only be successful for the individual, but it will also spur overall success of the whole university, which is to uphold USIM as a respected and recognized Islamic learning institution in the region," she said.

In acknowledging the achievement of researchers at USIM, PPPI initially had listed the USIM Top 100 Researchers which lined excellent researchers in the field of research and innovation. The selection criteria are based on the achievements of the latest five years of research from 2013 to 2017. In additional, the selection is also based on the performance of the academicians' research and innovation taking into account information involvement as active primary researchers, books and journals publications and innovations.
Prepared by:
Norhaida Abd Shukor
Research & Innovation Management Centre
Universiti Sains Islam Malaysia (USIM)