According to the pollution study statistics in 2016, every household uses minimum 2 kilograms of cooking oil per month while 45% of oil that cannot be used anymore will be discarded.
In addition, the disposal of cooking oil into the sink can cause the drainage system to clog and promote the breeding of pests such as mice and cockroaches. This is indirectly a breeding ground for pests that will affect the health of the population.
Recognizing the emergence of awareness on the management of disposal of used cooking oil, a group of students from Universiti Sains Islam Malaysia (USIM) has sparked an entrepreneurial idea. The group named Allinol Oil consists of eight members and moves under social entrepreneurial activities conducted by Enactus USIM. It was established in 2013 and has taken an initiative of conducting a collection of used cooking oil from consumers around Nilai, Negeri Sembilan.
"Through our observations, most of the used cooking oil is just poured into the sink. In fact, some tradesmen use a lot of cooking oil to fry the food and use it repeatedly although it is not good for health, just because they want to save their capital," said Liyana Rosman.
"Looking at these issues, we have come up with an appropriate solution using social entrepreneurial approach. This approach helps us to resolve issues that arise in the surrounding areas with various appropriate initiatives. At the same time, we can generate revenue indirectly. Through it, the group members can sharpen their soft skills, communication skills and help the community," she added.
According to this Bachelor of Quran and Multimedia student from the Faculty of Quranic and Sunnah Studies, through their efforts, the community has indirectly learned that not only paper, glass and plastic can be recycled. The project that Allinol Oil has created has helped in addressing the problem of frequent disposal of used cooking oil.
Used cooking oil can be recycled into bio-diesel oils, soaps and candles. Currently, the collected cooking oil will be sent to a company that works with them, UNI10 Energy to be processed into bio-diesel alone.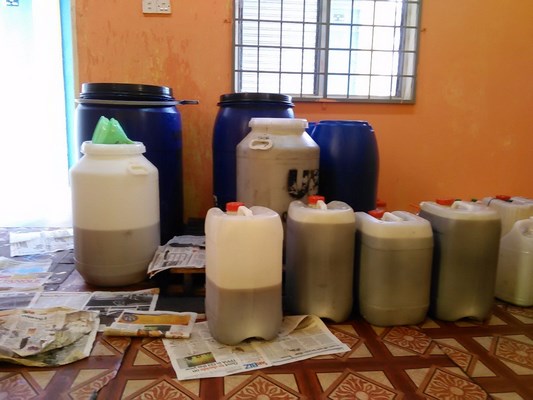 They also have plans to set up a special center for collecting the used cooking oil, which is named as "Oil House" near the USIM Tunku Najihah Sports Complex. Its strategic location will enable USIM and Nilai community to send their used cooking oil to them.
According to her, the process of collecting used cooking oil from premises or residences is only made upon request as they focus on the collection from premises inside the campus.
This social entrepreneurial project has a great impact on helping people maintain their health. It also helps to sustain the environment as it helps to control pollution due to unmanageable disposal of used cooking oil.
There are still many people who are unaware of this project and long explanation should be given to the local community including the dangers of using cooking oil repeatedly and throwing it into the drain.
"Our hope is that we can sustain the environment even by taking small steps such as recycling used cooking oil and increasing the awareness of the public to practice recycling used cooking oil."
Group members:
Syuaib bin Jauhar
Nurul A'diilah binti Mohd Zulkifli
Siti Nur Ayuni binti Rosli
Fatinah binti Mohd Mansor
Siti Norathirah binti Kamaruzaman
Najhan bin Rozali
Norizan binti Miswadi