The total number of workers in Malaysia is estimated to range from 2.96 million to 3.26 million in 2019. Of these, the number of foreign workers is estimated at 1.23 million to 1.46 million. Their living conditions are congested and crowded with inadequate ventilation, poor hygiene, and restricted access to clean water; all of which are elements for breeding and spreading infectious diseases. This impedes personal measures needed to prevent COVID-19 from spreading among them. As we have seen, since the start of Enhanced Movement Control Order (EMCO), there has been a fluctuation in the number of cases involving foreign workers.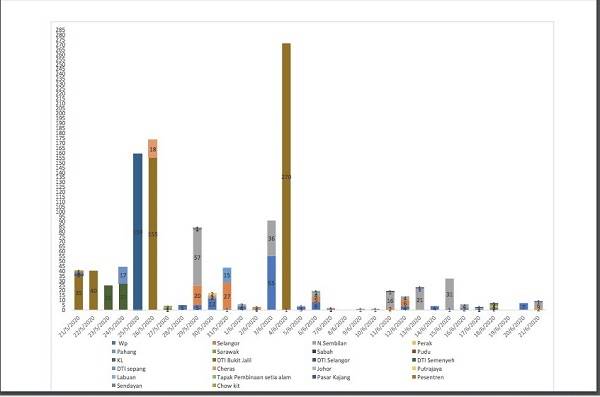 Following this, the authors decided to conduct an interview session among 30 foreign workers (76.9% male and 23.1% female) scattered around Negeri Sembilan during Recovery Movement Control Order (RMCO) to dive in and understand their living conditions and practices in preventing the COVID-19 outbreak. The foreign workers were chosen across different industries and countries of origin. Among the 30 respondents, 26.9% were Pakistanis, 23.1% were from Bangladesh, 15.4% were Nepalis and Indonesian each, 7.7% were Cambodian and Myanmar each, while 3.8% were from Vietnam. Their ages ranged from 23 to 46 years old and they had spent roughly 6 months to 12 years in Malaysia.
Due to the language barrier, the authors conducted a one-to-one interview session, and most of them are familiar with the Malay language. When asked about the most preferred platform for receiving information on COVID-19, 76.67% of them opted for Facebook, followed by radio and television. In terms of their jobs, 66.67% of them worked in the services industry (maid, security guards, carwash workers, cleaners), while 20% worked in the food industry and 13.33% are in the construction industry. Due to COVID-19, 57.7% of them said that they were temporarily executed from their job, while 42.3% (most from the services industry) said that they were still required to work during the pandemic.
When asked if they were aware of the prevention approaches, for example washing/sanitizing hands, wearing face mask, and implementing social distancing of one meter, all of them said that they and their housemates take the preventive measures seriously as they did not want to fall sick. Some even said that they are very particular on cleanliness where they practice washing clothes separately after coming back home to ensure that they do not spread the virus to others. However, in terms of social distancing, it was quite difficult to be implemented among them, as their living space is quite crowded.
All of them when interviewed were wearing their facemask and said that they even carry extras with them. When asked about their salary, 42.3% of them said that they received full salary from their employer. Another 42.3% said they only received a certain amount of salary, while 15.4% said they did not receive any salary due to no work. Interestingly, most of them who received a certain amount or no salary said that their employer was kind enough to provide them with basic food such as rice, bread, etc. Hats off to those employers who were willing to give a helping hand in looking after their foreign workers staff during this crisis.
When asked about the rise in the number of COVID-19 cases among foreign workers, 92.6% of them said that they were aware and have taken preventive measures, such as not making any contact with those in the red and yellow zones. Some of them commented that it is better to stay safe than to have regrets later. The respondents were also asked if they were afraid and feeling sad due to the pandemic. The response varied among them, where 80% of them said that they were afraid and worried about their family members back in their country. Malaysia did a good job in containing the crisis, but things are different back in their country. We still remember one of the respondents said "I am not afraid as I pray five times a day. This disease came from Allah SWT for a good reason. Keep praying and look after yourself."
On the other hand, the authors also inquired if the respondents underwent the COVID-19 screening test. Forty percent of them said that their company arranged for them to undergo the screening to ensure that they are healthy before coming back to work. On the other hand, 33.33% of them said that they have filled in the form and are waiting to be called as the screening is conducted in stages. Sadly, 26.6% of them said that they do not feel it is necessary to undergo the screening provided that they do not feel sick. This shows lack of knowledge among them, as there exists COVID-19 patients who do not show any symptoms. When further inquired about the symptoms, they said the most common symptoms are fever and difficulty in breathing. They also said that they preferred to avoid going to hospitals or clinics, as they fear catching the virus in those places. At the end of the interview session, the authors gave some advice on looking after their health and taking preventive measures to avoid being infected by COVID-19.